Avoid milfoil-infested areas, reduce speeds and minimize wake as follows (click on the map to enlarge):
CLICK IMAGE BELOW TO ENLARGE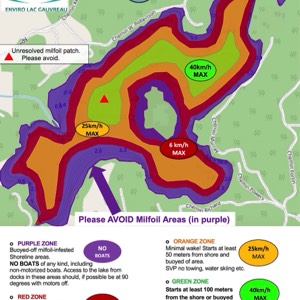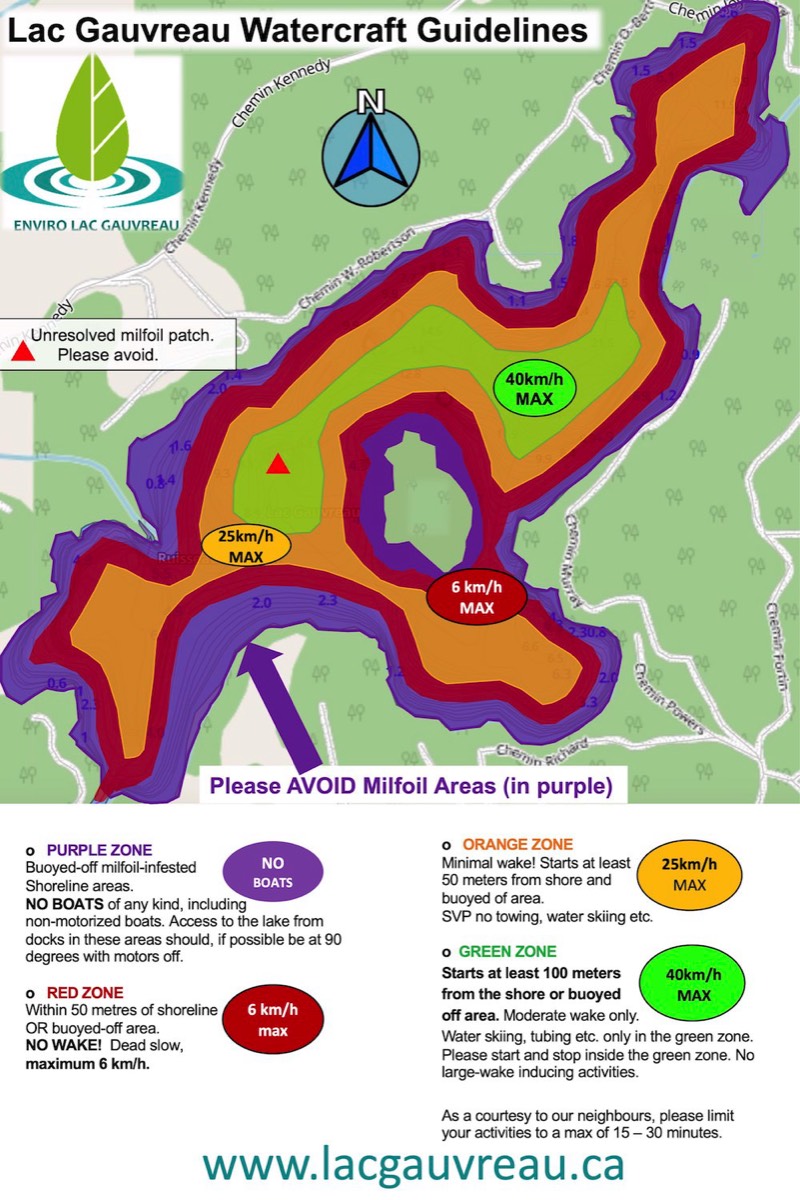 PURPLE ZONE:
Buoyed-off milfoil-infested shoreline areas. NO BOATS of any kind, including non-motorized boats, should enter these areas. Access to the lake from the shore and docks in these buoyed-off areas should as much as possible be at 90 degrees to the shore with motors off. Departing through milfoil: if you can, raise your motor, fend off your dock, paddle carefully and do not start motor until clear of milfoil. Arriving through milfoil: if you can, turn off and raise your motor, coast in. Where possible, properly rake out milfoil to form a channel for your boat. Make sure you remove all milfoil cuttings from the water and dispose of them properly.


RED ZONE:
Within 50 metres of shore OR buoyed-off area. NO WAKE! Dead slow, maximum 6 km/h.


ORANGE ZONE:
Area beyond the Red Zone extending to the Green Zone, 50 to 100 metres from shore OR buoyed off area. MINIMAL WAKE! Either continue at slow speed producing no wake or GET AND STAY ON PLANE (runabouts and other planing-hull boats)! Maximum 25 km/h.


GREEN ZONE:
Area beyond the Yellow Zone, exceeding approximately 100 metres from shore OR buoyed off area. REASONABLE WAKE! Maximum 40 km/h. Water skiing, tubing and other towing activities are restricted to the GREEN ZONE and should be commenced and conducted only within this zone. As a courtesy to your neighbours on the west side of the lake, please keep these activities to a minimal duration, no longer than 15-30 minutes. No water sports that require a large wake are permitted. No acrobatics (e.g., no donuts, no sudden turns).
Hulls of all boats, including non-motorized boats, should be power-washed and bilges drained before launching onto the lake.

No visiting boats are allowed on the lake. Rental properties (short term) should not provide motorized boats to their clients.

Scoop up and properly dispose of any fragments of milfoil you may see on the water surface.

Avoid gasoline and oil spills. Clean up when necessary. Get your motors tuned for maximum efficiency.

Refrain from littering and other lake pollution. Clean up others' mistakes where you can.

Operate your boat safely. Watch for swimmers. Slow down near non-motorized boats and boats that may be stationary.

Minimize noise. Check your exhaust system. Keep the music down.

Advise your renters and visitors of these guidelines.

Be vigilant. Report any abuses of these guidelines to Enviro Lac Gauvreau at: enviro.gauvreau@gmail.com
RATIONALE
The guidelines above are put forward to assure that all boats and watercraft are operated on Lac Gauvreau in a manner that discourages milfoil propagation, protects against shoreline erosion, promotes safety, and generally avoids being a nuisance to your neighbours! Eurasian milfoil is an invasive weed that grows in shallow areas and has spread throughout the lake. It is not only unsightly but interferes with swimming and boating, deprives the lake of oxygen, chokes off native vegetation, affects fish stock – in short, it can potentially kill the lake. It can spread through launch of unwashed boats from other lakes, fragmentation via motorboat propellers and excessive boat wake. Many measures are being taken to reduce existing milfoil and minimize its spread (elimination right now is impossible). Boaters have a role to play, and these guidelines are one of those measures.



BACKGROUND


Over the last ten years, the Association has made many efforts to deal with the milfoil issue and the role of watercraft in its spread. These efforts have included buoys delineating "no go" areas for all types of boats, signs to explain the buoys, direct communication with boaters found within the buoyed areas, membership education, professional assistance from ABV des 7 to explore remediation measures, and financial assistance from the Municipality to enhance the previously noted measures.

We hope that you will adhere to these guidelines in the spirit with which they were developed: to enable us to continue to operate our boats on the lake in a manner that is safe and environmentally friendly.