Blue-Green Algae (Cyanobacteria) and their Toxins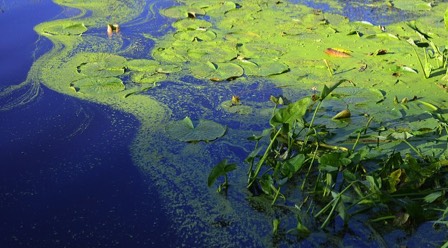 As far back as 2000, a blue-green algae bloom (a familiar name for a class of bacteria called cyanobacteria) devastated cottagers by causing the temporary closure of Lac Gauvreau. After 2000, with the help of the mayor, the lake's volunteer environmental group put together an action plan to clean up the lake. We learned that cyanobacteria are naturally occurring, and lodge in the sediment on the muddy lake bottom. The bacteria are generally fed by nutrients in the water. The right combination of temperature, light and calm water can cause the bacteria to bloom into a blue-green scum on the lake surface. The result is very unpleasant and can produce toxins that are harmful; all use of the water in the area of a bloom should be avoided.
Despite continued efforts, localized blue-green algae blooms have appeared virtually every year, indicating the continued presence of high nutrient levels. Measures to minimize this occurrence have been concentrated on preventing more nutrients from entering the lake (restriction on fertilizers, shoreline restoration and phosphate-free cleaning materials). Since the wake from motorboats stirs up the sediment in shallow areas—thus freeing the bacteria to rise to the surface—our
Guidelines For Responsible Boating
will help reduce blooms.
Click on the tabs below to learn more…
Cyanobacteria form in shallow, warm, slow-moving or still water. They are made up of cells, which can house poisons called cyanobacterial toxins.
Cyanobacterial toxins are the naturally produced poisons stored in the cells of certain species of cyanobacteria. These toxins are usually released into water when the cells rupture or die.
No. Researchers generally agree that between 30 and 50 per cent of cyanobacterial blooms are harmless because they contain only non-toxic species of freshwater cyanobacteria. Because there's no obvious way to tell if a particular bloom is toxic, samples have to be analysed in a laboratory before a body of water can be declared safe.
If you ingest water, fish or blue-green algal products containing elevated levels of toxins, you may experience headaches, fever, diarrhea, abdominal pain, nausea and vomiting. If you swim in contaminated water, you may get itchy and irritated eyes and skin, as well as other hay fever-like allergic reactions. If you suspect you might have come into contact with cyanobacterial toxins and are experiencing any of these symptoms, rinse any scum off your body and consult your physician immediately.
Blooms in recreational bodies of water are usually associated with unpleasant odours and offensive appearance on shorelines as the scum accumulates and decays. Individuals should avoid swimming and other water-related activities in areas with dense blooms.
Because all cyanobacterial blooms are potentially toxic, it's always best to stay away from contaminated areas. If you see a blue-green algae bloom in Lac Gauvreau, please contact Enviro Lac Gauvreau immediately at
enviro.gauvreau@gmail.com
to report the sighting.