Eurasian watermilfoil: the "zombie weed" that won't go away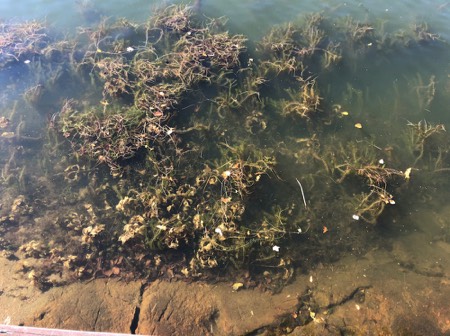 Where is it found?

Myriophyllum spicatum
, commonly known as Eurasian watermilfoil (moniker "zombie weed") is an invasive weed found in six provinces across Canada: British Columbia, Manitoba, Ontario, Quebec, New Brunswick and Prince Edward Island (
source
). It is found in all the Great Lakes and throughout much of the United States (
source
).
How does it spread?
It inherits the zombie nickname for good reason. Even the tiniest fragment torn from a parent plant can root anywhere up to 10 metres deep (
source
). It can also drift from one body of water to another and can be transported by watercraft, trailers, fishing gear and even by migratory birds from one waterway to another (
source
). Motorboats with their fast turning propellers and wakes can chop up and spread the weed very efficiently (
source
) (
source
). Many boaters don't clean their vessel carefully enough (or at all) before moving it from one body of water to another, and the plant can survive more than 24 hours attached to a propeller or a paddle. (
source
) Canoe and kayak paddles and swimmers can stir and break up the weed beds when they travel close to shore.
What does it do?
The highly invasive milfoil grows and spreads rapidly, choking out native water plant species and lowering oxygen levels so that certain species of fish are driven away. Within a relatively short period, the weed beds create tangled, oxygen-starved mats that are inhospitable to marine life and that impede use by boats and swimmers. When the thick weed beds die each fall, the dead refuse drifts to the lake bottom, contributing to premature aging and eventual death of the lake (see the article
Eutrophication
).
Response and strategies
By all accounts, the Quebec government seems to be so overwhelmed by environmental catastrophes that it doesn't have the resources to deal with many of them. So budget measures have reduced or eliminated monitoring of some environmental issues that it considers less important than others or are just too costly to address. For example, since 2013 Québec has stopped publishing the province's blue-green algae advisories at the time of occurrence. Instead, the province now only lists advisories once a year in an annual report (
source
). Moreover, only lakes that provide drinking water to residents are monitored now for blue-green algae blooms in Quebec. The rapid and pervasive spread of milfoil has proven to be far too costly and out of hand to manage by the Quebec Government.
A comprehensive report published by
Radio-Canada
in January 2021 titled
Myriophylle à épis : une bataille sous-marine
explores the history of this pervasive weed in Quebec and reports promising initiatives and sustained strategies to slow down its spread.
Read this translated version
.
A local company
Block-Aid
provides a range of products to mitigate the spread of milfoil. Ottawa residents Rob Perrins and John Cooke came up with a burlap dispensing boat they call Block-Aid LakeSaver to fight the invasive Eurasian watermilfoil. Engineer Rob Perrins is a cottage owner at Lac Bernard. John Cooke is an Ottawa business manager. After an unsuccessful campaign in 2018 to raise funds through the Kickstarter website, the two entrepreneurs pitched their idea to the National Capital Commission.